Quite Easy
Using a sugar thermometer is the best way to know that the caramel has reached the desired temperature. You can pick them up online for around £4.99 and they're a handy piece of equipment to have in the kitchen. 
This recipe makes what is also known as 'soft ball' caramel. This makes it ideal for things like toffee apples, melt in your mouth soft chewy caramels, Vegan Millionaire's Shortbread or even fudge. You can even experiment with flavours – add a pinch of flaky sea salt or if you're feeling adventurous; a teaspoon of miso paste creates a sweet & savoury flavour explosion.  
Nutrition and allergy information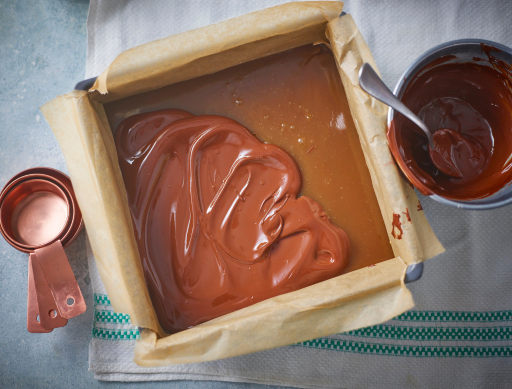 Be the first to leave a review!
---
Pinch of sea salt (optional)
Step 1 of 3
Place the butter, brown sugar, Carnation Vegan condensed milk alternative in a non-stick, heavy based saucepan. 
Step 2 of 3
Put the cornflour in a small bowl and gradually add the soya cream, whisking until you have a smooth paste.  Add the paste to the pan and mix well. 
Step 3 of 3
Turn up the heat fairly high and cook the caramel, stirring all the time until it boils rapidly – it will take about 4-5 minutes to reach the ideal temperature of 116°C – or soft ball stage on a sugar thermometer. Leave to cool for a few minutes to thicken.
If you're not sure if you've got your caramel hot enough and haven't got a sugar thermometer you can drop a little mixture into ice cold water it should form a firm non sticky ball in your fingers.  However we've found that if you're in doubt give it another minute or two of boiling.
Have you tried making this delicious recipe yet?
Let us know by reviewing it below