Strawberry Ripple Ice Cream
Super Easy
Make the most of delicious British strawberries with this creamy strawberry ripple ice cream 
Nutrition and allergy information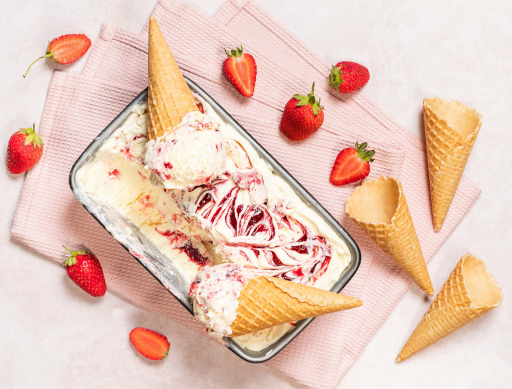 Blown away by the simplicity yet deliciousness of this recipe! I made it with strawberries and another time with cherries.
---
For the strawberry coulis:
Step 1 of 3
Make the strawberry coulis by cooking down all the ingredients until well dissolved, broken down and thickened to a jam like consistency. This takes a total of about 25 minutes. Mash whilst cooking to ensure no large pieces of fruit remain. Cool and chill before using in ice cream.
Step 2 of 3
For the ice cream, add the cream, condensed milk and vanilla to a large mixing bowl and beat until thickened.
Step 3 of 3
Spread about a third of the ice cream in the base of a lidded ice cream container. Dot spoonfuls of the strawberry compote over and swirl together, Repeat the layers two more times, finishing with the swirled strawberry compote. Freeze overnight to set. Leave out at room temperature for a few minutes before scooping and enjoying
Have you tried making this delicious recipe yet?
Let us know by reviewing it below