Orange Scented Gulab Jamun
Quite Easy
Try this Orange Scented Gulab Jamun recipe whenever you need a lovely sweet treat for a special event like Diwali or Eid. These milky fried treats are drenched in a sugary syrup and are the decadent treat everyone will love. So easy to make, our Gulab Jamun recipe won't take you more than 30 minutes to make. Just follow the steps below and you will have your stunning sweet treats ready in no time.
Nutrition and allergy information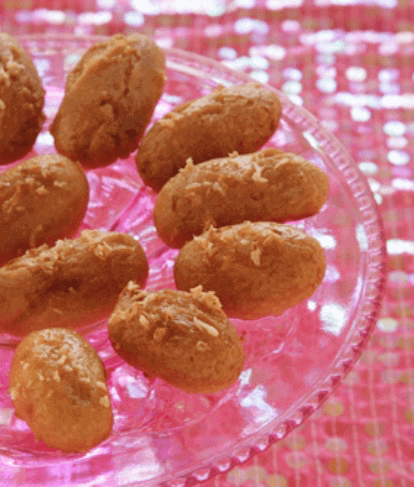 Be the first to review this recipe!
---
Ghee or Ground nut oil to fry
A sprinkling of toasted desiccated coconut
Step 1 of 4
Make a thin syrup, by boiling the sugar and water together for a few minutes, allow to cool then stir in the orange essence.
Step 2 of 4
Sift together the dry ingredients into a bowl and stir in enough of the condensed milk to form a soft dough.
Step 3 of 4
Shape the dough into small sausages approximately 2cm (¾") in length then fry gently in a pan of hot oil. You should aim to cook 3-4 jamuns at a time as they expand during cooking. Do not allow the oil to over heat as the jamuns will cook too quickly on the outside but not be cooked through in the middle.
One of the top tips for perfect  Orange Scented Gulab Jamuns is to make sure you shape the jamuns properly before frying otherwise they could split open. Make sure you grease your hands before rolling them into shape and fry them immediately. 
Step 4 of 4
Drain the jamuns on kitchen paper then place into the orange syrup. Serve hot or cold with toasted coconut, to finish.
Have you tried making this delicious recipe yet?
Let us know by reviewing it below