Quick And Easy Banoffee Pie
Quite Easy
Looking for the perfect quick and easy dessert? Try our Quick & Easy Banoffee Pie recipe. Made with simple ingredients, and with no cooking involved (only a bit of melting), this pie is ideal for surprise guests as it can be whipped up at short notice. With crumbly crushed digestive biscuits and rich caramel, this Quick & Easy Banoffee Pie  recipe is sure to go down a treat.
Nutrition and allergy information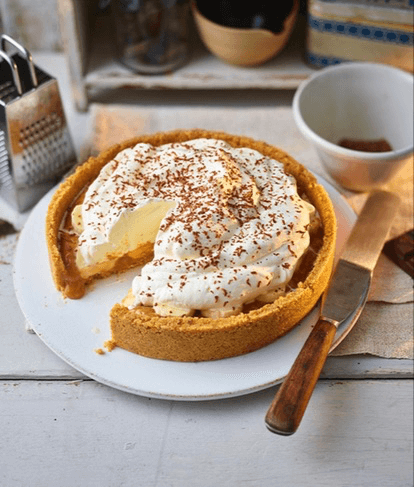 This is the best quick banoffee pie ever!! A firm family favourite and super quick to make last minute for unexpected guests :)
---
Digestive biscuits, crushed
Carton whipping cream, whipped to soft peaks 
Grated chocolate to sprinkle
20cm loose-bottomed cake tin
Step 1 of 5
Watch our quick video to see how quick this Banoffee Pie recipe really is!
Step 2 of 5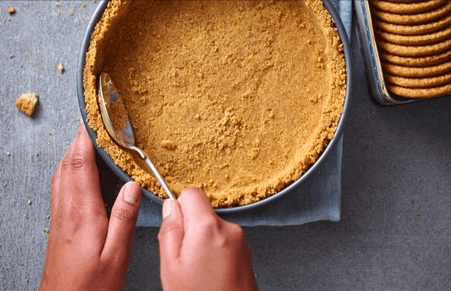 Put the crushed biscuits into a bowl with the melted butter. Mix it together thoroughly, then press the mixture into the base and sides of the tin. Chill for 30 minutes or freeze for 15 minutes.
For super speedy setting put the base in the freezer for 10 minutes instead of the fridge. Or, if you want to make your life even easier, buy a ready-made sweet pastry case instead of making the biscuit base.
Step 3 of 5
Spoon the cream on top and decorate with grated chocolate. Chill until ready to serve.
Step 4 of 5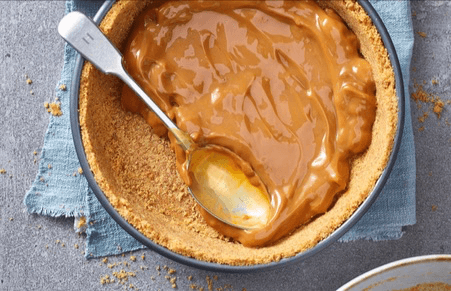 Simply spoon the caramel from the tin into the base and spread gently to the edges. There's no need to beat the caramel first.
Step 5 of 5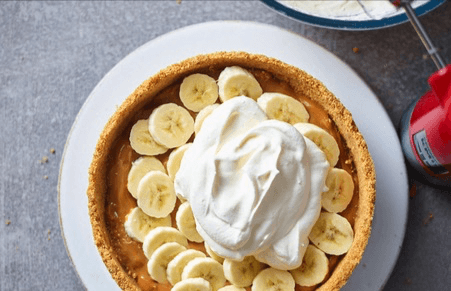 Remove the pie base from the tin. Slice the bananas and scatter them over the caramel. 
Have you tried making this delicious recipe yet?
Let us know by reviewing it below