Super Easy
From the American 'Snow Cone' to the Japanese 'Kakigōri', turns out we all just want a deliciously refreshing summer treat. We've used strawberries for our fruity element, but you can use any fresh or frozen fruit you like. To finish off, top with a drizzle of sweetened condensed milk to balance all the flavours out.
Nutrition and allergy information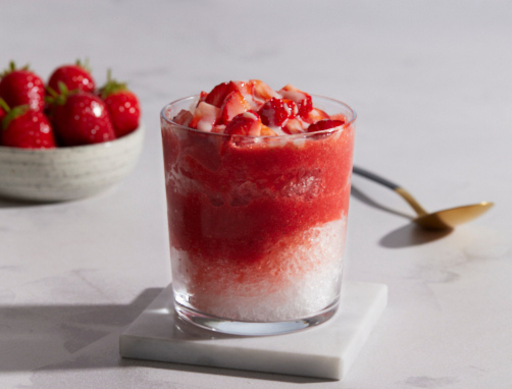 Be the first to leave a review!
---
For the strawberry puree:
Frozen strawberries, defrosted
Fresh strawberries, diced
Step 1 of 3
For the strawberry puree: add the strawberries, lemon juice and caster sugar to a blender and blend until smooth. If you want a super smooth puree, you can strain the mix after blending to get rid of any seeds that are remaining.
Step 2 of 3
Half fill both your bowls or glasses with shaved ice and spoon over 75ml of the strawberry puree. Top with another layer of crushed ice and another 75ml of strawberry puree.
You can buy shaved ice machines online – they're relatively inexpensive and great to crack out over the summer months. However, you can use a food processor to create a texture similar to shaved ice. Fill your food processor halfway with ice-cubes and pulse continually until the ice starts to break up and resemble a snow like texture.
Step 3 of 3
Finish by drizzling over a tablespoon of Sweetened Condensed Milk and garnish with diced fresh strawberries.
Have you tried making this delicious recipe yet?
Let us know by reviewing it below