Bit Tricky
You can make the pastry, bake it then freeze if you want to get ahead - then you can defrost them and fill to order! 
Choux buns filled with our gorgeous gooey caramel, whipped cream and slices of banana topped with chocolate sauce… mmm…
Nutrition and allergy information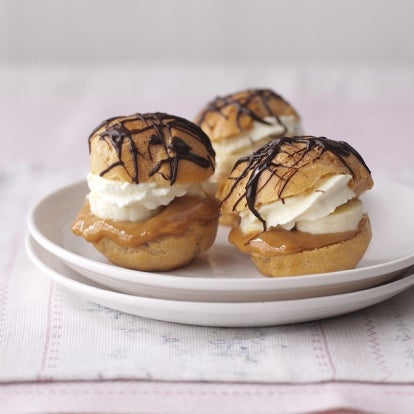 ---
Readymade chocolate sauce, to serve
baking sheets, covered with baking parchment, a piping bag and plain nozzle
Step 1 of 3
Preheat the oven 200°C (180°C for fan ovens) or Gas Mark 6.
Step 2 of 3
Melt the water, butter and sugar together in a pan. Add the flour and beat with a wooden spoon until smooth and thick. Add the eggs, one at a time, beating well before adding the next, until the mixture becomes smooth and glossy.
Step 3 of 3
Line 2 baking sheets with parchment and sprinkle both with a little water. Spoon the mixture into a piping bag with a smooth nozzle and pipe equal balls (about the size of a golf ball). Bake for 20 minutes or until golden-brown.
Have you tried making this delicious recipe yet?
Let us know by reviewing it below