Rainbow White Chocolate Fudge
Super Easy
Adapt this recipe anyway you like with colours, sprinkles, edible glitter or flavours! Makes great party favours too!
Even if its raining outside this rainbow fudge is sure to put a smile on your face! Only 2 ingredients which are melted in the microwave... so quick and so yummy!
Nutrition and allergy information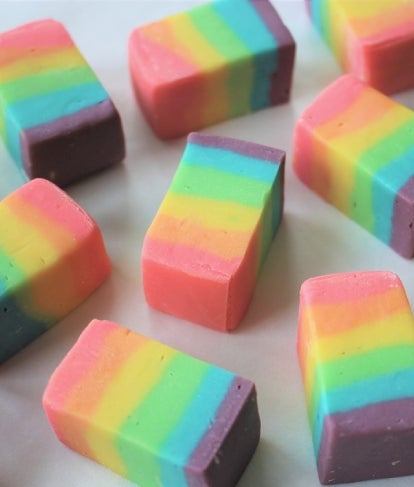 Be the first to review this recipe!
---
approx 12cm food container and baking parchment
Step 1 of 4
Break or chop the chocolate into small chunks and place in a non-stick saucepan with the condensed milk. Melt the ingredients gently over a low-medium heat, stirring occasionally until smooth and silky. (Alternatively melt in the microwave in 10-20 second bursts, stirring frequently).
Step 2 of 4
Divide the fudge into 6 small bowls. Add small amounts of food colouring to the different batches and beat with a spoon until fully mixed to the colour you like (it will be quite stiff).
Step 3 of 4
Line the food container with baking parchment so that it overlaps the sides (this will help you lift the fudge out once it's set).  
Step 4 of 4
Place the coloured fudge into the prepared tub, spreading it out gently with a plastic spatula or spoon.  Try to keep the layers as even as possible.  Chill the fudge for 1-2 hours or until completely set before cutting.  The fudge will keep in the fridge for a week (if it lasts that long!).
Have you tried making this delicious recipe yet?
Let us know by reviewing it below