Quite Easy
Try out our spooky chocolate triangles this Halloween. They're easy enough for the kids to help make and decorate!
Nutrition and allergy information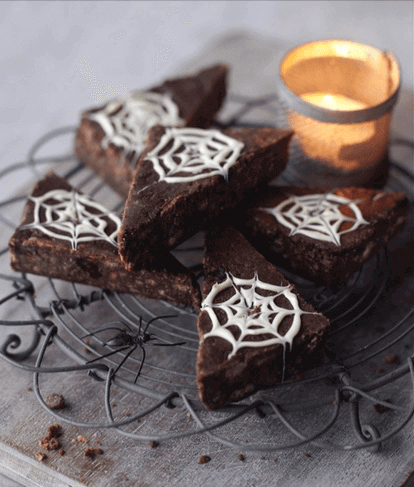 Very apt! This is such a wonderful and easy recipe. Fantastic triangles, extremely tasty
---
Plain chocolate, broken into pieces
Digestive biscuits, coarsely crushed
White chocolate, to decorate
18 x 28cm baking tin lined with baking parchment
Step 1 of 2
Place chocolate, butter and condensed milk into a saucepan, heat gently until melted. Add biscuits and raisins. Stir well. Press mixture into prepared tin and chill until firm.
Step 2 of 2
Cut into triangles and pipe three circles using the white chocolate over each. Using a cocktail stick drag from the centre to the edges of the circles to form a spider's web.
Store refrigerated for up to 2 days. Try adding dried fruit or nuts to this recipe if you like!
Have you tried making this delicious recipe yet?
Let us know by reviewing it below