Quite Easy
Get little ones involved with making the biscuit dough this Easter. These little spiced biscuits are a real crowd pleaser and make great Easter presents!
Nutrition and allergy information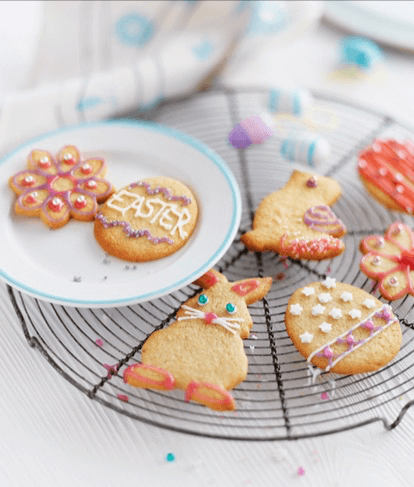 Be the first to review this recipe!
---
2 baking sheets, lined with parchment 
Step 1 of 4
Beat the unsalted butter, sugar and condensed milk together until creamy. Add the egg (don't worry if it looks like its curdling), beat well and then add the flours, spice and lemon zest. Mix to a firm but sticky dough. Cover in cling film and refrigerate for 30 minutes.
Why not add vanilla and roll in some chocolate chips to your dough for a chocolatey version?
Step 2 of 4
Preheat the oven to 180°C (160°C for fan ovens), Gas Mark 4.
Step 3 of 4
Roll the dough out on a well- floured surface to the thickness of a pound coin. Cut shapes out. Transfer the biscuit shapes to the trays and bake for 10 minutes until light golden. Cool completely on a wire rack.
Step 4 of 4
Ice and decorate the biscuits if you like – then leave to dry slightly. Store in an airtight box for up to a week.
Have you tried making this delicious recipe yet?
Let us know by reviewing it below