Chocolate Fudge Tray Bake
Super Easy
You can decorate this however you like - its great topped with fresh berries or you could use sprinkles or confectionary!
This super easy tray bake recipe is perfect for bake sales and big celebrations.. The sponge cooks in 25 minutes so its super speedy too!  
Nutrition and allergy information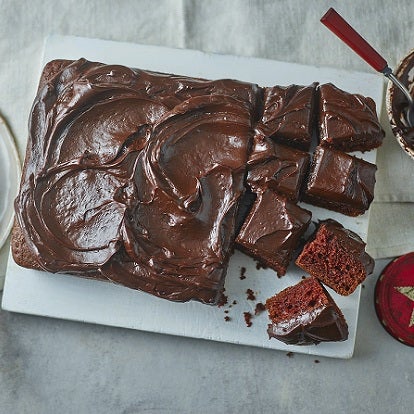 ---
Dark chocolate (70% cocoa solids)
20x28cm (8x11in) cake tin, lined with baking parchment
Step 1 of 7
Preheat the oven to 180°C, (160°C for fan ovens), Gas Mark 4.
Step 2 of 7
Sift the flour, cocoa and bicarbonate of soda into a bowl and stir in the sugar, mix well.
Step 3 of 7
In a jug measure the oil and milk, then add the eggs, one teaspoon of vanilla and mix together with a fork until combined. Beat two tablespoons of the caramel in a separate cup or bowl until smooth and whisk into the egg and oil mixture.
Step 4 of 7
Combine the wet with the dry ingredients and mix well. The cake mix will be quite wet. Pour the mixture into the tin and bake in the centre of the oven for 20-25 minutes until springy to the touch.
Step 5 of 7
Cool the cake in the tin and then turn out onto a wire rack. Remove the baking paper and cool completely.
Step 6 of 7
Melt the chocolate in short bursts in the microwave, stirring until smooth. Add the remaining caramel and vanilla to the chocolate and beat well until smooth and glossy. 
Step 7 of 7
Place the cake onto a plate, spread with the frosting - you can leave to just the top or cover the top and sides completely. Leave to set and cut into slices.
If you're making this chocolate fudge cake recipe for a birthday, why not get a little creative? Cover the top with confectionary or sprinkles or long chocolate curls if you like!
Have you tried making this delicious recipe yet?
Let us know by reviewing it below