Raspberry and White Chocolate Fudge
Super Easy
We love the combination of raspberry and white chocolate - so we just had to test a version of our white chocolate fudge recipe! We've used freeze dried raspberries so that the fudge will keep well and raspberry flavour extract - both ingredients should be easy to find in bigger supermarkets.
This recipe also works really well with milk or dark chocolate and raspberry too (omit the colour and marbling step).  These make great presents for birthdays, Easter or Christmas or just to cheer someone up who's having a bad week...
Nutrition and allergy information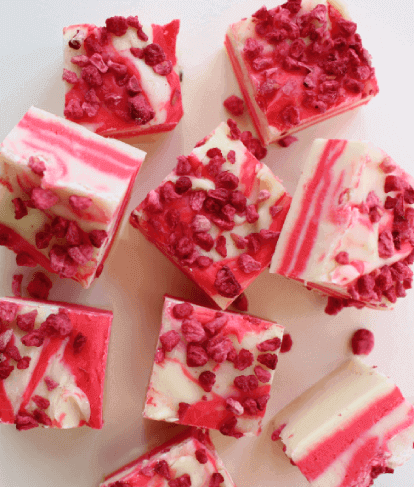 Be the first to review this recipe!
---
Natural raspberry extract (try Waitrose or online for this ingredient)
Red or pink food colouring
Step 1 of 4
Break or chop the white chocolate into small chunks and place in a non-stick saucepan with the condensed milk.  Melt the ingredients gently over a low-medium heat, stirring occasionally until smooth and silky.  (Alternatively melt in the microwave in 10-20 second bursts, stirring frequently).
Step 2 of 4
Add a few drops of raspberry flavouring into the mixture and mix well.  Divide the mixture into 2 bowls and colour one red or pink with the food colouring. 
Step 3 of 4
Line the tin with baking parchment so that it overlaps the sides (this will help you lift the fudge out once it's set).  Add dollops of the fudge in alternating spoonfuls into the tin and then swirl together for a marbled effect with a knife.  Press the dried raspberries into the top of the fudge so that they stick.
Step 4 of 4
Chill the fudge for 1-2 hours or until completely set before cutting.  The fudge will keep in the fridge for up to 2 weeks (if it lasts that long!).
Have you tried making this delicious recipe yet?
Let us know by reviewing it below