Quite Easy
Whip up this easy chocolate cake in no time covered in yummy chocolate glaze perfect for birthdays for little and big kids alike!
Nutrition and allergy information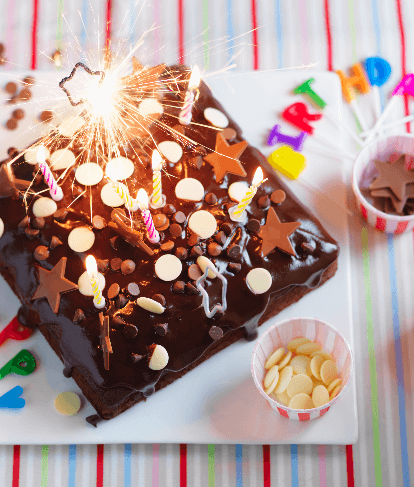 Simple! This cake is AMAZING. So delicious and so easy to make. Made it for my son's birthday party, it went down a storm with...
---
Buttery baking spread* or butter
1 packet mini white chocolate buttons
*Recipe is based on 70% fat buttery baking spread
20cm (8in) square cake tin, lined with baking parchment
Step 1 of 4
Preheat the oven to 180°C, (160°C for fan ovens), Gas Mark 4.
 
Step 2 of 4
Put the cake ingredients in a bowl and beat (use an electric hand mixer if you have one!) until light and creamy.
 
Step 3 of 4
Spoon the mixture into the tin and spread out. Bake for about 30-35 (40-45) minutes until springy and cooked in the centre. Cool slightly then lift out onto a cake rack.
 
Step 4 of 4
When cool, make the chocolate glaze. Break the chocolate into pieces and place in a bowl with the evaporated milk. Melt gently in the microwave then stir in the buttery baking spread. Set aside at room temperature for 10-15 minutes to thicken up before spreading over the cake. Top with the chocolate, candles and decorations!
 
Look out for other fun ways to decorate your cake – try edible glitter, sugar shapes or sprinkles or just cover the top in chopped strawberries and serve as dessert! 
 
Have you tried making this delicious recipe yet?
Let us know by reviewing it below