Quite Easy
Spoil yourself with our truly indulgent Sticky Toffee Pudding recipe. With it's wonderfully rich flavour, it's easy to see why it's known as one of the most loved desserts in households across the UK. You'll be forgiven for thinking it's difficult to make too, because our classic Sticky Toffee Pudding is easier than you may believe! Follow our 5 simple steps for your perfect pudding, then serve warm with ice cream or custard for a special treat.
Nutrition and allergy information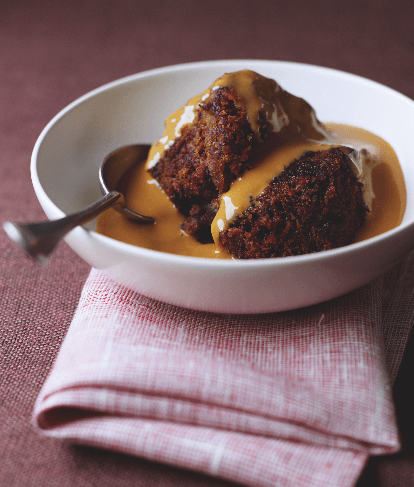 AMAZING! I made this for a big family get together. Doubled recipe, worked perfectly.
---
Dates, stoned and chopped
An 18cm (7") square cake tin base-lined with baking parchment.

*Recipe is based on 70% fat buttery baking spread.
Step 1 of 5
Preheat the oven to 180°C, (160°C for fan ovens), Gas Mark 4.
Step 2 of 5
Mix the dates and the bicarbonate of soda. Pour the hot water over and leave to soak while you make the batter. Whisk together the buttery baking spread and the sugar, then add eggs, one at a time (don't worry if it curdles). Mix in the flour, and then stir in the date mixture and vanilla. Pour into the prepared tin.
Step 3 of 5
Bake in the oven for about 50 minutes, until springy to the touch and cooked through.
Step 4 of 5
To make the sauce: Spoon the caramel into a microwave safe bowl and heat for 1-2 minutes, stirring often (or heat gently on the hob)
Step 5 of 5
Serve the pudding warm with a scoop of ice cream or alternatively, heat up some custard and pour over. Add extra caramel sauce for added indulgence.
If you don't have enough time to make our Sticky Toffee Pudding on the day you want it, don't worry! You can make this dessert the day before and then keep it covered in the fridge. Then, once you're ready, simply re-heat it in the oven.  
Have you tried making this delicious recipe yet?
Let us know by reviewing it below