Quite Easy
Try your hand at making these easy iced biscuits this October – spook your friends and family! Why not use your leftover Condensed Milk to make some Chocolate Chip Cookies?
Nutrition and allergy information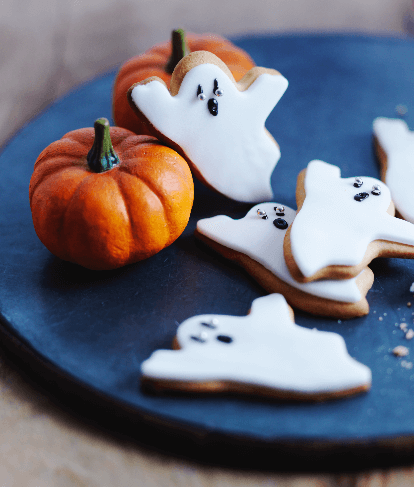 Taste spook-tacular!. They are AMAZING and great for halloween parties. So easy to mix up in a short while. Overall great RECIPE!
---
Ghost shaped cookie cutter, 200g readymade white fondant icing, black writing icing and silver balls to decorate
Step 1 of 4
Preheat the oven to 180°C (160°C for fan ovens), Gas Mark 4. Line 2-3 baking sheets with parchment.
Step 2 of 4
Beat the butter, sugar and condensed milk together until creamy. Add the egg (don't worry if it looks like its curdling), beat well and then gently fold in the flours. Mix to a firm but sticky dough. Cover in cling film and chill for 30 minutes.
Step 3 of 4
Roll the dough out on a well- floured surface to the thickness of a pound coin. Cut shapes out then transfer to the trays and bake for 10 minutes until light golden. Cool completely on a wire rack.
Step 4 of 4
Roll out the white icing to the thickness of a 50p coin. Use the same cutter to cut out white ghost shapes from the icing. Brush a little water onto one side of the icing ghosts and lay on top of the cooled biscuits. Press on gently then add some spooky faces with the black icing and silver balls.
Have you tried making this delicious recipe yet?
Let us know by reviewing it below