Condensed Milk Rice Pudding
Super Easy
This is our stove-top recipe for rice pudding, made with our sweet and creamy condensed milk if you prefer a more traditional oven-baked recipe see the links below for a recipe made with our super creamy tasting Evaporated Milk.
Sweet and creamy this easy rice pudding is made in about a quarter of the time of a traditional baked recipe.  You won't get a skin but it will be comforting and delicous all the same..
Nutrition and allergy information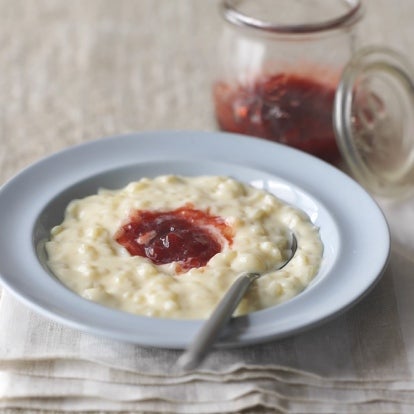 Simple recipe with ingredients that are already in the pantry/fridge. It was a hit with the family.
---
2pt (1.4Ltr) ovenproof dish, greased
Step 1 of 3
Wash the rice thoroughly, drain and place in a large saucepan with the water. Bring to the boil and simmer, uncovered for 25 minutes, stirring occasionally.
Step 2 of 3
Stir in the condensed milk, nutmeg and cream and bring to a gentle simmer. Simmer until the rice pudding is the thickness you like, a few minutes minimum.
Step 3 of 3
Remove from heat and serve with jam.
Have you tried making this delicious recipe yet?
Let us know by reviewing it below