Super Easy
Vietnam enjoys its coffee strong, earthy, and bitter. Adding sweetened condensed milk takes the edge off the bitterness, giving the iced coffee its classic creamy sweetness. We've used a traditional Vietnamese Phin Filter in this recipe but we've included some tips at the bottom for other coffee brewing methods.
Nutrition and allergy information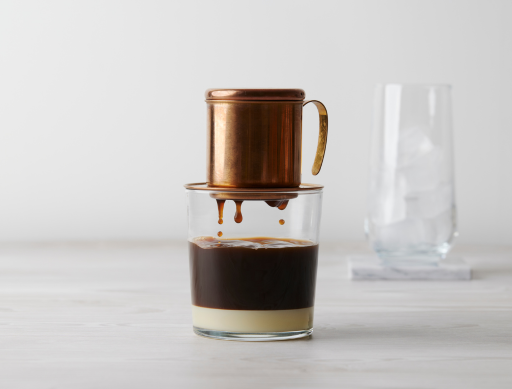 Be the first to leave a review!
---
Ground coffee (traditionally Robusta beans or a blend of Robusta & Arabica beans are used)
Boiling water, cooled slightly
 
 Vietnamese Phin Filter (see tip at bottom)
Step 1 of 5
Pour the ground coffee into a Vietnamese phin filter base. Place the phin filter strainer on top of the coffee.
Step 2 of 5
Add the condensed milk to the bottom of a glass and place the phin filter on top of the glass.
Step 3 of 5
Pour a little boiling water (about 20ml) over the coffee grounds until covered, then top with the gravity insert and press down lightly.
Step 4 of 5
Pour in more boiling water (around 80ml) until it just reaches the top of the gravity insert, then pop on the lid and allow the coffee to slowly drip through onto the condensed milk (this can take around 5 minutes). Once the coffee has finished brewing, stir together with the condensed milk.
Step 5 of 5
Fill a large glass with ice and pour over the coffee & condensed milk. Top with the semi skimmed milk and enjoy!
No Vietnamese phin filter? No worries! There are lots of different substitutions. The easiest would be dissolving 2 tbsp instant coffee into 80ml boiling water – not the most traditional but it does the job! If you have a coffee / capsule machine at home, substitute with a strong double espresso (80ml). You can also use a French Press or Mocha Pot to brew the coffee which is great for when you want to make more than one.
Have you tried making this delicious recipe yet?
Let us know by reviewing it below