Quite Easy
These spiced biscuits make perfect tea time treats or even presents for the festive season!
Nutrition and allergy information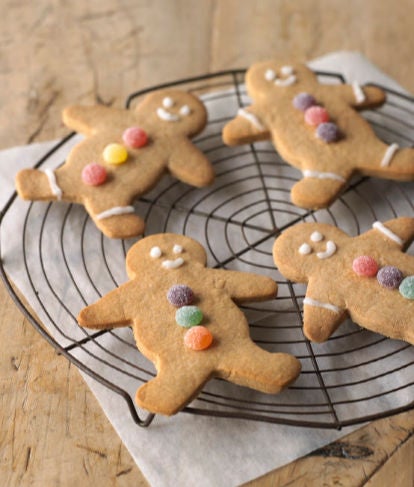 Be the first to review this recipe!
---
*recipe based on 70% fat buttery baking spread.
You will also need...
Biscuit cutters and lined baking sheets.
Step 1 of 4
Preheat the oven to 180° (160°C for fan ovens), Gas Mark 4.
Step 2 of 4
Heat the buttery baking spread and sugar in a saucepan, stirring until the spread has dissolved. Add the condensed milk and stir together.
Step 3 of 4
Sift the flour, bicarbonate of soda and ginger into a bowl and pour in the syrupy mixture. Start by working the ingredients together with a spoon then with clean hands bring the mixture together into a soft dough.
Step 4 of 4
Roll the gingerbread out on a floured surface to the thickness of a pound coin. Cut gingerbread men out and place onto a baking sheet. Bake the biscuits for about 10 minutes until just golden. Cool completely before decorating with icing and sweets.
These biscuits will keep for about a week in an airtight container.  
Have you tried making this delicious recipe yet?
Let us know by reviewing it below