Chocolate Caramel Macarons
Bit Tricky
Dainty chocolate macarons filled with caramel. Pop them in a pretty box and they make a delicious gift.
Nutrition and allergy information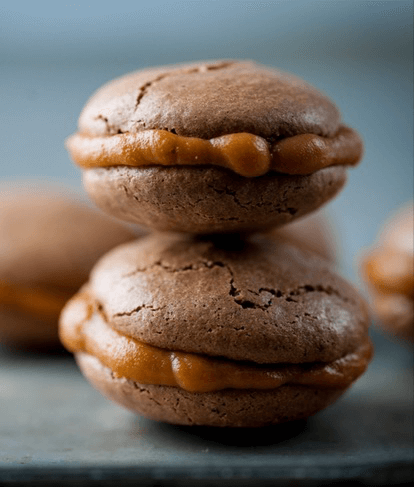 Be the first to review this recipe!
---
Step 1 of 6
Preheat the oven to 180°C (160°C for fan ovens) Gas mark 4. To make the macarons sieve the icing sugar and cocoa powder into a bowl then add the ground almonds, stir well.
Step 2 of 6
Separate the eggs and keep the yolks for the filling. Beat the whites with an electric hand mixer until turning white and frothy, then slowly start adding the caster sugar 1 spoonful at a time. Keep whisking until the meringue is thick and glossy.
Step 3 of 6
Add half the meringue to the almond mixture, stir until combined, then gently fold in the rest of the meringue, fold everything together until well mixed. Spoon the mixture into a large piping bag.
Step 4 of 6
Pipe small circles of the macaron mixture on a lined baking sheet (approx. 3cm diameter). Leave to rest for 15 minutes then place in the centre of the oven and bake for 15 minutes. Remove from the oven and put aside until cool, then lift carefully from the sheet.
Step 5 of 6
For the filling mix the caramel, corn flour and egg yolks together in a microwavable bowl and place in a microwave for 1 minute at a time, whisking in between until thick. Allow to cool.
You could add a small pinch of salt to the caramel before you fill into the macaroons for a delicious salted caramel twist…
Step 6 of 6
Pair the macarons with others of similar size then use a the filling to sandwich them together.
Have you tried making this delicious recipe yet?
Let us know by reviewing it below