Bit Tricky
Pecans and toffee are meant to be together - and nothing proves that like Pecan Pie. This classic recipe uses thick Carnation Condensed Milk, and really is worth the wait!Look out for ready baked pastry cases to make this recipe super quick! 
Nutrition and allergy information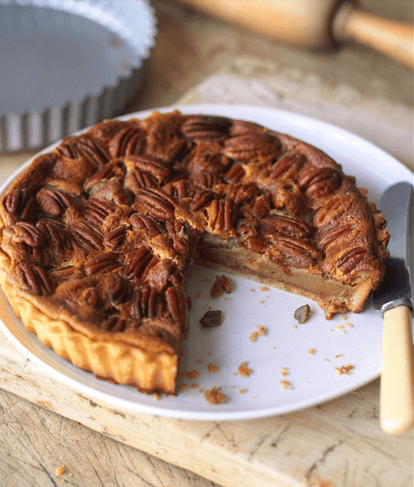 I've made this several times and it's to die for, really yummy and a breeze to make. Love the carnation products and the recipes.
---
Pack ready rolled shortcrust pastry
Golden syrup or maple syrup
*Recipe is based on 70% fat buttery baking spread. 
20cm loose-bottomed fluted flan tin
Step 1 of 5
Preheat the oven to 200°C, 180°C fan oven, Gas Mark 6
Step 2 of 5
Line the tin with the pastry, pressing gently into base, sides and rim. Allow the excess pastry to hang over the sides. Prick the base with a fork and chill for 10 minutes.
Step 3 of 5
Place a sheet of baking parchment onto the pastry and weigh down with baking beans or dried lentils. Bake for 10 minutes then remove the beans and paper and bake for a further 10 minutes. When cool, take a sharp knife and cut away the excess pastry from the edge.
Step 4 of 5
Reduce the oven temperature to 170ºC, Fan 160°C, Gas Mark 4.
Step 5 of 5
 In a large bowl, whisk together all the filling ingredients except the pecan nuts. Pour into the pastry case and sprinkle over the pecans. Bake for about 50 minutes until the filling is just set. Leave to cool for about 20 minutes.
Have you tried making this delicious recipe yet?
Let us know by reviewing it below