Quite Easy
Our Carrot Cake recipe is always a firm favourite at special occassions or around the family dinner table. The lightly spiced flavour, combined with the delicious frosting, makes this Carrot Cake recipe a sure pleaser. It can be baked within an hour, so it's ideal for busy bakers, and our step by step guide makes it super easy.
Nutrition and allergy information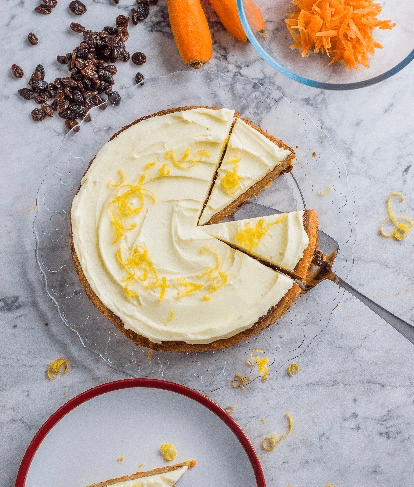 'Quick, easy, delicious! Lovely texture, easy to make, very tasty. The cake was easy to prepare, and looked great. Yummy!'
---
Zest of 1 orange and 2tbsp juice
Carrots, peeled and grated
You will also need...
20cm cake tin, lined with parchment.
Step 1 of 5
Watch our short video to show you how to make our quick and easy carrot cake.
Step 2 of 5
Preheat the oven to 180°C, (160°C for fan ovens), Gas Mark 4.
Step 3 of 5
In a large bowl whisk the eggs and sugar together until thick and creamy. Slowly whisk in the oil and half the tin of condensed milk. Mix in the remaining cake ingredients.
Step 4 of 5
Pour into the tin and bake for 45-50 minutes until well risen. Cool slightly then turn out and cool completely.
You can also adapt this easy Carrot Cake recipe to make muffin size Carrot Cakes – simply spoon the mixture into 12 muffin cases in a muffin tin and bake for approximately 25 minutes.
Step 5 of 5
To prepare the frosting, place the cream cheese in a bowl and beat until smooth, whisk in the rest of the condensed milk. Spread the frosting over the cake. Decorate with lemon and orange zest.
Have you tried making this delicious recipe yet?
Let us know by reviewing it below