Quite Easy
This is a twist on our classic Key Lime Pie recipe - making it into a luscious cheesecake finished with dark chocolate for an added wow factor! See our tip for making candied lime slices to serve on top if you're feeling adventurous!
Nutrition and allergy information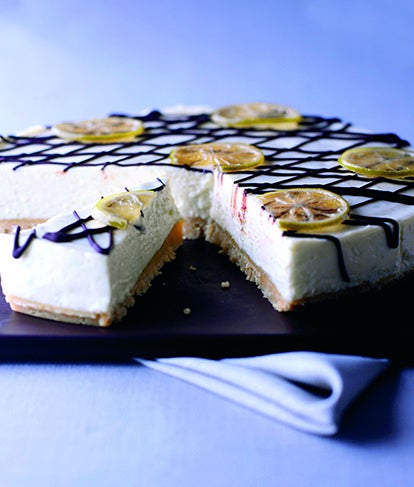 Easy and delicious! Made this as was looking for an easy no bake dessert for a family meal. Easy to follow recipe, easy to make...
---
Shortbread biscuits, crushed
Finely grated zest and juice of 4 limes
Dark chocolate (70% cocoa solids), melted
Thin lime slices (optional see tip)
23cm spring-form cake tin
Step 1 of 3
Mix the biscuits with the melted buttery spread then press onto the base of the tin. Chill for 10 minutes.
Click through to our No Bake Lemon Cheesecake recipe to watch a video showing you how simple these cheesecakes are to make!
Step 2 of 3
In a large bowl, whisk together the soft cheese and condensed milk until smooth. Add the lime zest and juice (watch it thicken!). Spoon the mixture over the base and chill for at least 2 hours, preferably overnight.
Step 3 of 3
Remove the cheesecake from the tin and place on a serving plate. Drizzle the melted chocolate over the top and sides, then leave to set.
To finish, gently simmer the extra lime slices in a little icing sugar and water – there should be barely enough water to cover the slices. The syrup will reduce to a sticky coating on the limes. Transfer the lime slices to baking parchment to set before placing on the cheesecake.
Have you tried making this delicious recipe yet?
Let us know by reviewing it below