Halloween Ginger-dead Men
Super Easy
These gingerbread biscuits are bound to tickle your funny bone this Halloween... this recipe is based on our classic gingerbread but if you prefer you can use our chocolate gingerbread recipe instead.
Look out for good quality food gels or pastes to dye your gingerbread black or you could use black cocoa powder if you like in our chocolate gingerbread recipe!
Nutrition and allergy information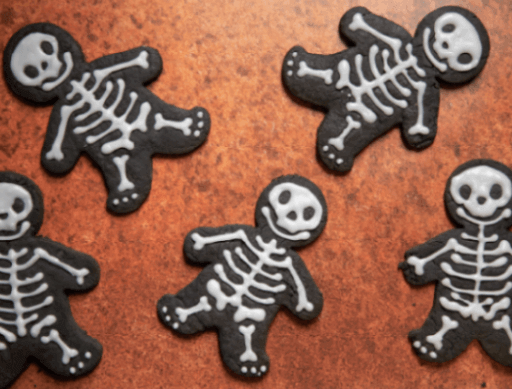 Be the first to review this recipe!
---
*recipe based on 70% fat buttery baking spread.
Biscuit cutters and lined baking sheets
Step 1 of 4
Preheat the oven to 180°, (160°C for fan ovens), Gas Mark 4.
Step 2 of 4
Heat the buttery baking spread and sugar in a saucepan, stirring until the spread has dissolved. Add the condensed milk and stir together. Add black food colouring to the mixture to reach a rich, deep, black colour.  Mix well. Leave to cool for 5 minutes.
Step 3 of 4
Sift the flour, bicarbonate of soda and spices into a bowl and pour in the syrupy mixture. Start by working the ingredients together with a spoon then with clean hands bring the mixture together into a soft dough.
Step 4 of 4
Roll the gingerbread out between two layers of baking parchment or cling film to avoid your worktop turning black! You need the dough to be about the thickness of a pound coin. Cut gingerbread men out and place onto a baking sheet. Bake the biscuits for about 10 minutes until just golden. Cool completely before decorating with icing.
These biscuits will keep for about a week in an airtight container.  
Look out for special skeleton biscuit cutters which will help to give you a guide when you're decorating your biscuits.
Have you tried making this delicious recipe yet?
Let us know by reviewing it below