Quite Easy
These little banoffees are perfect for a dinner party and super easy! Load the crushed biscuit bases with Carnation Caramel a few hours in advance and finish them off just before serving.
Nutrition and allergy information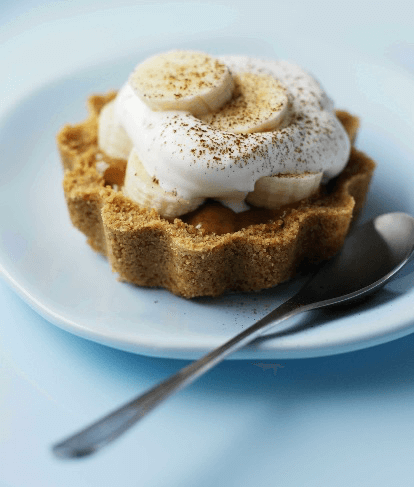 Quick and Easy. Found recipe on the tin and it's absolutely mouth-watering gorgeous! Our grown up kids keep asking me to make...
---
Digestive biscuits, crushed
Carton whipping cream, softly whipped
8 x 7.5cm loose-bottomed flan tins
Step 1 of 4
Tip the biscuit crumbs into a bowl and mix in the melted butter. Using the back of a teaspoon, press the mixture into the base and sides of the tins. Chill for about 10 minutes or until set firm.
Step 2 of 4
Divide the caramel between the bases.
Step 3 of 4
Remove the pies from the tins. Slice the bananas, reserve six for the top and fold the rest into the softly whipped cream.
Step 4 of 4
Spoon the mixture over the caramel, decorate with a banana slice and dust with the cocoa.
Have you tried making this delicious recipe yet?
Let us know by reviewing it below