Quite Easy
Sticky toffee, banana muffins are guaranteed to sell out for any bake sale and are a great sweet treat for lunchboxes to beat the back to school blues!
Nutrition and allergy information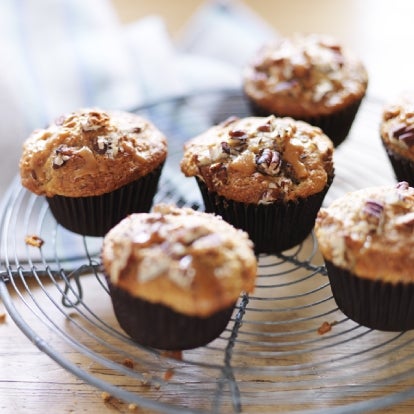 Beautiful! I was looking for something interesting to bake for a charity bake off and found this recipe - baked them and won!
---
Chopped pecan nuts (optional)
12 hole muffin tin and muffin cases
Step 1 of 5
Preheat the oven to 190°C (170°C for fan ovens) Gas Mark 5.
Step 2 of 5
Mix the flour, baking powder and bicarbonate of soda in a bowl.
Step 3 of 5
In another bowl, mix the eggs, milk, oil, mashed bananas, vanilla and a dollop of the caramel. Then, mix this gently into the flour until just combined, don't beat hard (if it looks lumpy its right!).
Step 4 of 5
Gently swirl through the rest of the caramel until rippled.
Step 5 of 5
Place muffin cases in the tin and spoon in the muffin mix. Top with the chopped nuts, if you like them. Bake for about 20 minutes, cool slightly then tuck in!
These muffins are scrumptious straight from the oven – perk them up the next day by microwaving for 10 seconds to warm the caramel.
Have you tried making this delicious recipe yet?
Let us know by reviewing it below