Fat Free Strawberry Frozen Yogurt
Super Easy
You can swap the strawberries for any soft fruit you like so you can make the best of the British fruit season!
This no-churn recipe for strawberry froyo is so easy to make with just 3 easy steps.. amazingly its fat free too!
Nutrition and allergy information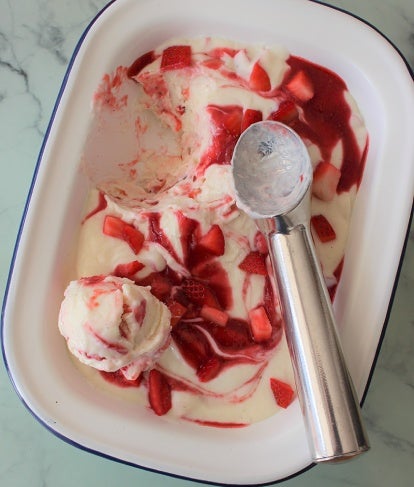 Be the first to review this recipe!
---
Strawberries, washed and tops removed
Step 1 of 3
Place 100g of the strawberries into a small blender with the jam and whizz to a puree.  You could also mash them with a fork if you don't have a blender.  Tip the berry mixture into a small saucepan and cook for 3-5 minutes until slightly thickened. Leave to cool.
Step 2 of 3
Chop the remaining strawberries into small pieces.
Step 3 of 3
Beat the yogurt and condensed milk together in a bowl until smooth.  Add the chopped strawberries and mix together.  Add a few spoonfuls of the strawberry puree and swirl through.  Transfer the mixture into a freezer-safe container and swirl through the remaining puree. Freeze for 4 hours or until solid.  Leave the froyo out for 15-20 minutes before serving.
Have you tried making this delicious recipe yet?
Let us know by reviewing it below