Quite Easy
Make the perfect snack for all the family with our scrumptious chocolate chip cookie recipe. A classic that's always guaranteed to keep everyone happy, these cookies are perfectly crunchy on the outside, yet soft and chewy in the middle. Made with our Carnation Condensed Milk, this chocolate cookie recipe will be one you can pass on down the generations to come.
 
Nutrition and allergy information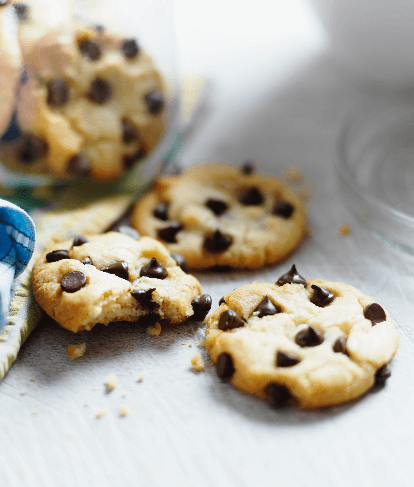 My favourite easy cookies!These are super quick and easy to make, and have become my go-to cookies to bake when I'm in a rush....
---
Unsalted butter, softened
Self-raising flour, sifted
A baking tray - non stick is best, but you can line your normal baking tray with greased baking parchment instead
Step 1 of 3
Preheat the oven to 180°C, (160°C for fan ovens), Gas Mark 4. 
Step 2 of 3
In a large bowl, cream the butter, sugar and condensed milk until light and fluffy. Mix in the flour to make a soft dough and then mix in the chocolate chips.
Step 3 of 3
Roll the dough into walnut size balls and place on a baking tray, flattening them out slightly. Be sure to space well apart as they'll spread! Bake for 12-15 minutes.
The recipe makes a lot of cookies so if you don't need it all in one go, no worries! The dough will keep quite happily in the fridge for a week or so. Or, you can freeze it in balls and then come back and bake whenever you want! Want to try something a little different? Try using white chocolate chips instead and then add in raspberries for a sharp but jammy suprise. 
Have you tried making this delicious recipe yet?
Let us know by reviewing it below