Quite Easy
Put a spin on a comforting classic with our Caramel Apple Crumble recipe. With sticky, toffee apples topped with oaty crumble and our Carnation Caramel, this is sure to be a winner at dinner parties or around the family table and takes only half an hour to make!
Nutrition and allergy information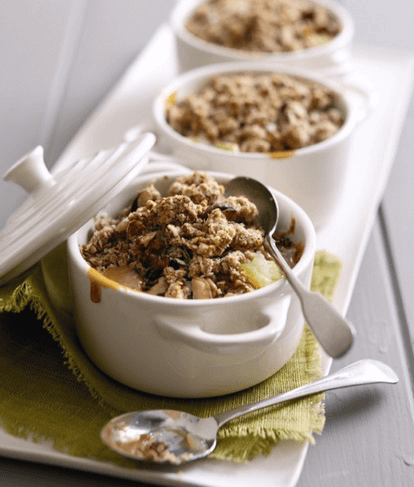 I made this for my husband and oh my what a crumble! The topping clumps together a little, but it's beautiful.
---
*Recipe is based on 70% fat buttery baking spread. 
Step 1 of 4
Preheat the oven to 200°C, (180°C for fan ovens), Gas Mark 6.
Step 2 of 4
Peel the apples and chop into a chunky dice like pieces. Tip into a pan with 4tbsp water and simmer for about 3 minutes until softened.
Step 3 of 4
Place the flour, oats and buttery baking spread into a small bowl and mix together with a fork. Add 1 tablespoon of caramel and mix roughly. Sprinkle through the walnuts.
Step 4 of 4
Place 2 teaspoons of the caramel into 4 ramekins and top each with the apple. Dot a little more caramel over each pot. Top each pot with the crumble mixture and bake in the oven for 15 minutes. Once out of the oven, let them cool for 5-10 minutes.
Serve your caramel apple crumble recipe with Carnation evaporated milk, hot custard or with a scoop or two of vanilla ice-cream. 
Have you tried making this delicious recipe yet?
Let us know by reviewing it below