Super Easy
Combine the earthy tones of matcha with a dash of creamy sweetened condensed milk; a matcha made in heaven (or so we think).
Nutrition and allergy information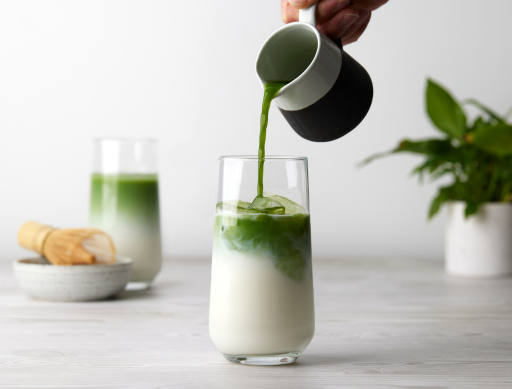 Be the first to leave a review!
---
High quality matcha powder 
bamboo whisk or handheld milk frother
Step 1 of 3
Add the matcha to a small bowl with half the water. Whisk gently until you have a smooth, lump free paste then stir in the remaining water.
Leave your boiled water to cool for 5 minutes before adding to the matcha. This step is called 'blooming' and stops the matcha from becoming clumpy and stuck together. If your water is too hot, it might burn the matcha which will give it an unpleasant bitter taste.
Step 2 of 3
Add the sweetened condensed milk and semi skimmed milk to a glass and mix to combine
Step 3 of 3
Fill the glass with ice and pour over the matcha. Enjoy!
Have you tried making this delicious recipe yet?
Let us know by reviewing it below