Biscoff Caramel Ice Cream
Super Easy
If you can't find whipping cream you can use double cream - but it will be firmer to set and higher in calories! Always leave it out for 10-15 minutes before serving.
We love all things biscoff at Carnation which is why we've created a creamy caramel biscoff ice cream, perfect for when ordinary ice cream just won't hit the spot!
Nutrition and allergy information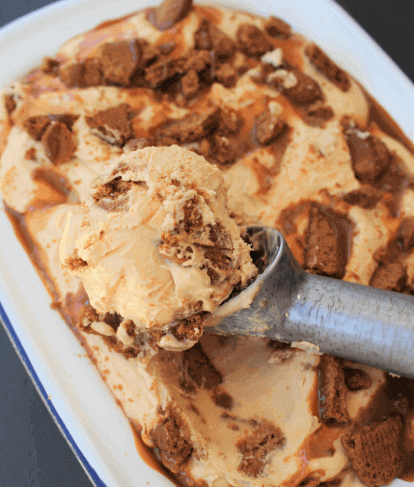 Be the first to review this recipe!
---
Lotus Biscoff Biscuits, chopped
Step 1 of 5
Whip the cream until soft peaks form using an electric hand whisk.
Step 2 of 5
Beat the caramel with the salt in a small bowl and then fold into the whipped cream. Save a little and to drizzle on the top.
Step 3 of 5
Break up the biscuits, or crush them in a bag with a rolling pin, then fold into the whipped cream, keeping some back to crumble on the top.
Step 4 of 5
Spoon into a clean freezer safe plastic box and freeze for 4 hours or until solid. No beating or churning required!
Step 5 of 5
Serve with the left over biscuits crumbled on the top and a drizzle of caramel sauce!
Have you tried making this delicious recipe yet?
Let us know by reviewing it below