Super Easy
"For who could hate or bear a grudge, against a lovely bit of fudge."
We've teamed up again with our pal Colin the Caterpillar, to bring you the loveliest bit of fudge. The best part is that it takes just 4 ingredients and less than 20 minutes to make! Top with Colin the Caterpillar White Chocolate Faces for the perfect homage of our multi legged friend.
Don't forget, smaller people have smaller appetites!  
Nutrition and allergy information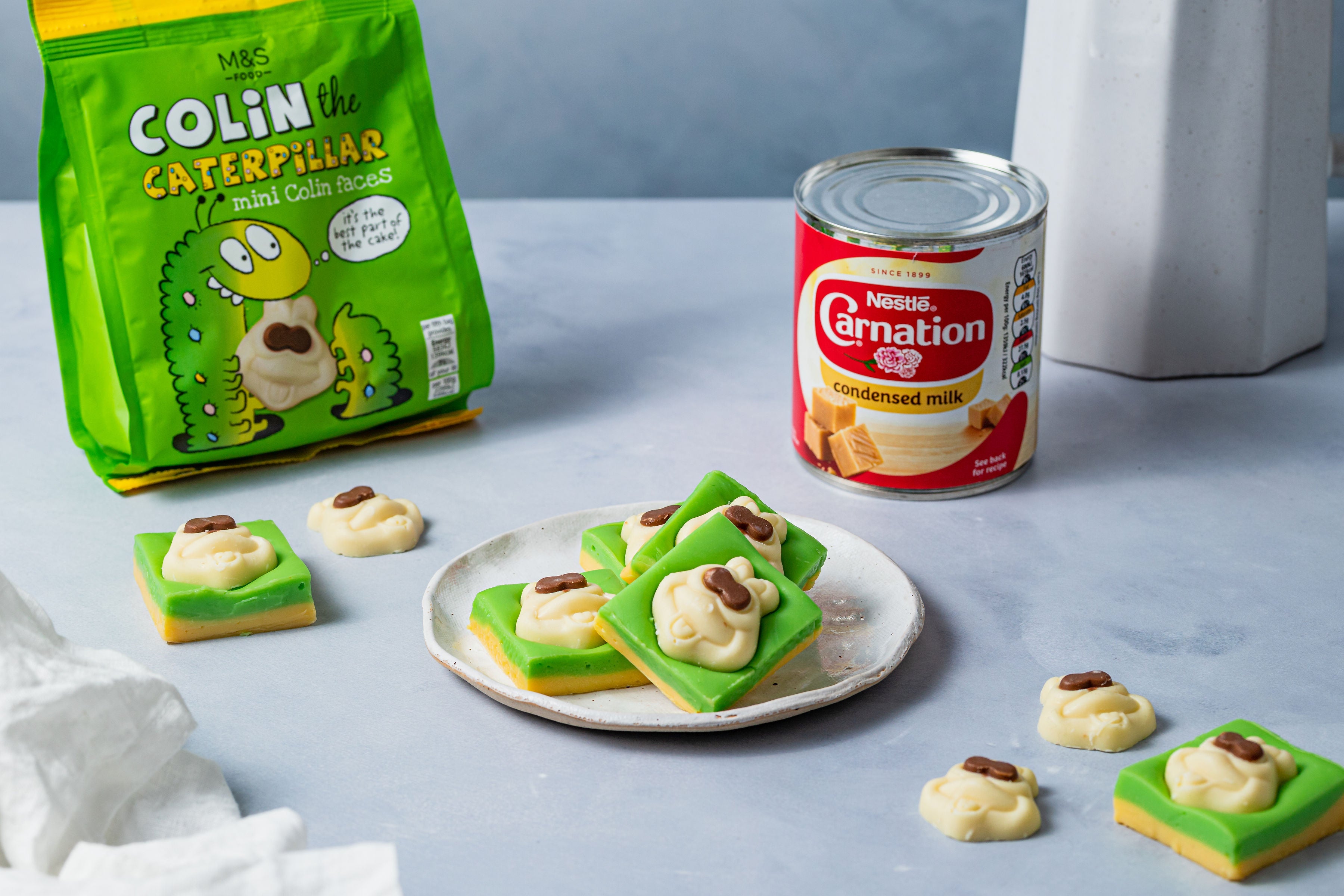 Be the first to leave a review!
---
yellow and green food colouring 
All products are available in-store at M&S or online via Ocado.
20cm square tin, lined with baking parchment
Step 1 of 5
Break or chop the chocolate into small chunks and place in a non-stick saucepan with the condensed milk. Melt the ingredients gently over a low to medium heat, stirring occasionally until smooth and silky.
Step 2 of 5
Separate the mix into two bowls and add a drop of yellow food colouring to one bowl and a drop of green to the other. Mix well to combine.
We use food colouring paste as it gives a far more intense colour compared to liquid or gel. You can easily find food colouring paste online or in specialist baking shops.
Step 3 of 5
Line the tin with baking parchment so that it overlaps the sides (this will help you lift the fudge out once it's set). Spoon in the yellow fudge and press into an even layer. Repeat this process with the green fudge.
Step 4 of 5
Top with the Colin the Caterpillar White Chocolate Faces and place in the fridge to chill for 2 hours +.
Step 5 of 5
When ready to serve, remove from the fridge and cut into 36 pieces.
Have you tried making this delicious recipe yet?
Let us know by reviewing it below