Quite Easy
Look out for our Carnation Drizzles for this recipe - but if you can't find it in stores our Carnation Caramel will work perfectly too. Beat the last 50g of the tin until you have a smooth sauce and drizzle over the bananas! 
This is an extra special banana bread recipe – with caramel in the cake mix for a rich toffee flavour, topped with buttercream, fresh banana and dripping with extra caramel.
Nutrition and allergy information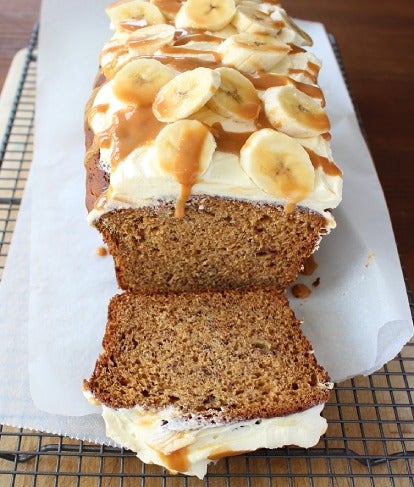 Be the first to review this recipe!
---
Buttery spread or butter, melted
Vanilla extract (optional)
For the buttercream:
Buttery spread
900g (2lb) loaf tin, lined with baking parchment
Step 1 of 6
Preheat the oven to 180°C (160°C for fan ovens), Gas Mark 4.
Step 2 of 6
Slice the bananas into a bowl and then mash with a fork.
Step 3 of 6
Place the mashed banana, 350g caramel drizzle (save the rest for the top!), buttery spread, egg and vanilla in a large bowl and beat to combine. Mix in the flour, baking powder and baking soda.
Step 4 of 6
Pour the mixture into the prepared loaf tin loaf tin and bake for 50-60 minutes, or until a cake skewer inserted into the centre of the loaf comes out clean. Remove from the oven and set aside for 10 minutes. Turn onto a wire rack to cool completely.
Step 5 of 6
To make the buttercream, beat the buttery spread with the icing sugar in a large bowl with an electric hand mixer until smooth, light and creamy. 
Step 6 of 6
When ready to serve: spread the buttercream on top of the banana bread.  Slice the fresh banana and scatter on top of the cake and finish with the remaining caramel drizzle.
Have you tried making this delicious recipe yet?
Let us know by reviewing it below