Super Easy
Looking for a bake to use all those delicious apples? Look no further, you've just found it! Buttery shortbread, sweetly spiced apples and lashings of delicious caramel sauce!  Autumn just got heavenly. 
Nutrition and allergy information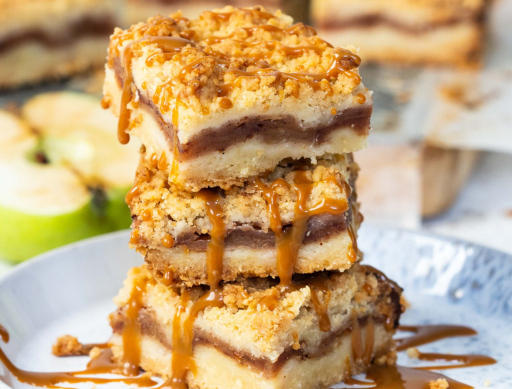 Be the first to leave a review!
---
For the shortbread base and crumble topping:
Apples,  peeled, cored, and thinly sliced (use a tart variety such as Granny Smith, Bramley, etc),
450g (before peeled and cored)
8" square tin, lined with parchment
Step 1 of 6
Line an 8" square tin with parchment. Preheat the oven to 190C.
Step 2 of 6
Place the flour, sugar, salt and vanilla in a mixing bowl and stir together. Add in the butter and rub until well combined and crumbly.
Step 3 of 6
In a separate bowl, combine all the apple filling ingredients well.
Step 4 of 6
Press about 3/4 of the shortbread mixture into the bottom of the tin. Lay the apple slices as flat at possible over the whole of the shortbread base, pressing slightly to compress. Sprinkle over the remaining shortbread crumble.
Step 5 of 6
Bake for 45-50 minutes until the topping is golden. Cool in the tin.
Step 6 of 6
When cool, remove from the tin and slice into squares. Top with a caramel drizzle and enjoy!
Have you tried making this delicious recipe yet?
Let us know by reviewing it below