Bit Tricky
Try this all-time favourite at home but take care when making as the toffee gets very hot! A crunchy apple coated in smooth, creamy, chewy toffee makes for a real treat on Halloween or Bonfire Night!
Nutrition and allergy information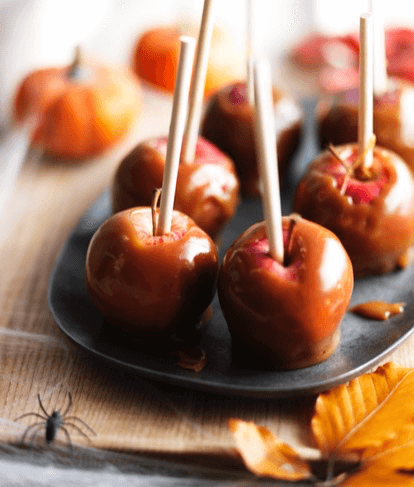 I made it Quick and simple! Worked really well! Super sticky, glue your mouth together just as any good toffee should. Silence is...
---
6 chopsticks or lollysticks 1 tray lined with baking parchment
*Recipe based on 70% fat buttery baking spread.
Step 1 of 4
Dunk the apples in boiling water for 30 seconds, remove with a slotted spoon, cool slightly before wiping with kitchen paper to remove any wax.
Step 2 of 4
Insert the sticks into the apples near the core.
Step 3 of 4
Melt the remaining ingredients in a large pan over a low heat, stirring occasionally. Bring to the boil for about 10-15 minutes stirring frequently – if you have a sugar or food thermometer the temperature you need is about 115°C! IT IS VERY HOT SO BE CAREFUL! It will be a golden brown colour. You can test that its ready by dropping a small amount into a bowl of cold water – if it forms a soft ball then it's ready (see tip).
Step 4 of 4
Remove from the heat, and very carefully take each apple and roll in the toffee to coat completely – it helps to tilt the pan as you roll the apples. Leave to set on the parchment until hard.
If your caramel doesn't set on the apples – it might be that the surface of the apple was too smooth or waxy.  You can always score the apples lightly with a knife to help the toffee stick.
Have you tried making this delicious recipe yet?
Let us know by reviewing it below