Super Easy
No eggs or allergic to them? Try our egg-free cake – the condensed milk takes the place of eggs in this lovely moist sponge.  You can even cook it in your slow cooker or in the oven.  Hurrah for cake!
Nutrition and allergy information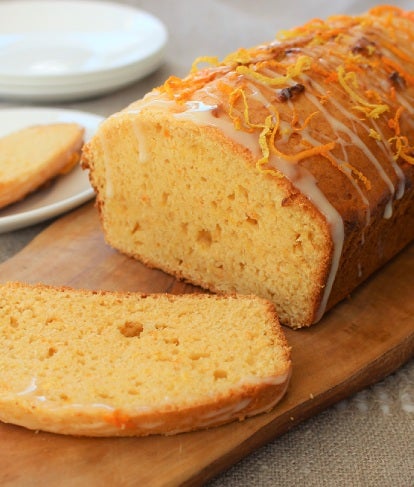 Be the first to review this recipe!
---
You will also need…
900g loaf tin lined with baking parchment
Step 1 of 7
Preheat the oven to 180°C (160°C for fan ovens), Gas Mark 4. Or get your slow cooker out of the cupboard if you have one!
Step 2 of 7
Zest half of the lemon and orange and wrap this in a piece of kitchen paper for decorating the cake later.
Step 3 of 7
Place the orange and lemon into a pan of boiling water and weigh down with a lid or bowl to keep them under the water while they simmer for 1 hour.
Step 4 of 7
Drain the fruit, leave to cool for 5 minutes, then halve and deseed.  Place the pieces of fruit – skin and all into a food processor.  Blend until smooth. 
Step 5 of 7
Take 1 tablespoon of condensed milk from the can and reserve this for drizzling over the cake once its baked.  Pour the blended fruit into a large mixing bowl, add the rest of the condensed milk and flour and mix together. 
Step 6 of 7
Pour the mixture into the lined tin and bake for 40 minutes or place in your slow cooker on HIGH for 2 ½ hours.  Remove and allow to cool in the tin for 10 minutes before transferring the cake to a wire rack to cool completely.  
Step 7 of 7
Decorate with the reserved condensed milk and zest and serve. 
We love this moist cake with a dollop of creme fraiche or custard!
Have you tried making this delicious recipe yet?
Let us know by reviewing it below