Super Easy
The loveliest treat for someone sweet. Spread the love with our Red Velvet Fudge - it makes for a great gift to hand out to all your loved ones.
Nutrition and allergy information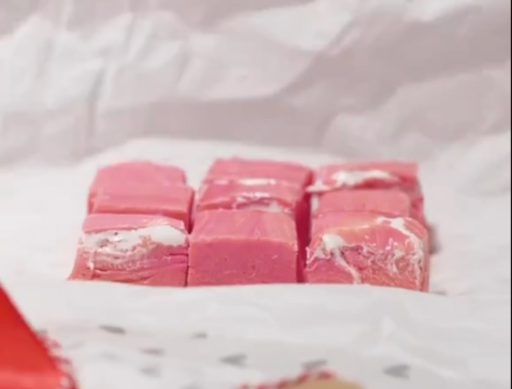 This was so easy to make. Didn't last long when the family came to visit. Will definitely be doing this again....
---
Step 1 of 4
Break or chop the chocolate into small chunks and place in a non-stick saucepan with the condensed milk. Melt the ingredients gently over a low-medium heat, stirring occasionally until smooth and silky. (You can also melt it in the microwave in 10-20 second bursts, stirring frequently).
Step 2 of 4
Add the red food colouring to the mix and stir vigorously until it's a uniform colour. Whilst the mix is still warm, add the marshmallow fluff and gently swirl it through using a spatula.

 
Tip: For the red food colouring we used paste as it gives a far more intense colour compared to liquid or gel. You can easily find food colouring paste online.
Step 3 of 4
Press the fudge into the tin and smooth over with the back of a spoon.
Step 4 of 4
Chill in the fridge for 1 hour or until set, then cut it into squares.
Tip: Store the fudge in an airtight container in the fridge for up to two weeks or you can freeze it (the fudge won't 'freeze' solid but it will keep for up to 1 month like this).
Have you tried making this delicious recipe yet?
Let us know by reviewing it below