Bit Tricky
This New York-style baked cheesecake requires a little extra effort but the results are out of this world! The secret to the sticky texture of this cheesecake is in the gentle cooking in a water bath (roasting tin filled with hot water). Cooling the cheesecake slowly in the oven helps to prevent the top cracking.
Nutrition and allergy information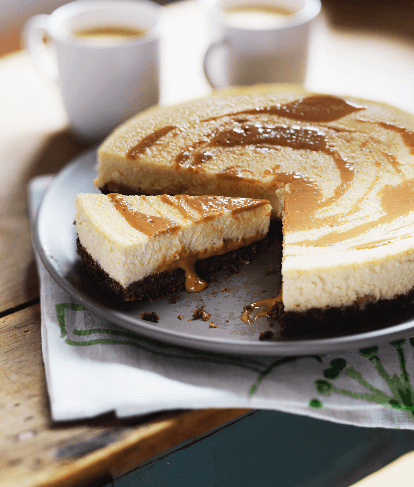 Be the first to review this recipe!
---
Digestive biscuits, crushed
20cm spring form cake tin
Step 1 of 5
Preheat the oven to 180°C, (160°C for fan ovens), Gas Mark 4. Double wrap the outside of the cake tin in foil.
Step 2 of 5
Mix the crushed biscuits in a bowl with the cocoa and butter thoroughly then lightly press into the base of the tin. Chill for 10 minutes.
Step 3 of 5
Whisk the cream cheese, crème fraîche, cornflour, eggs and vanilla (use an electric hand whisk or blender if you have one). Pour the filling over the biscuit base.
Step 4 of 5
Sit the cheesecake in a roasting tin. Beat the caramel in a small bowl and then gently swirl into the creamy filling.
Step 5 of 5
Pour very hot water into the roasting tin to come halfway up the sides of the cake tin. Bake in the centre of the oven for 45 minutes. Turn off the oven, without opening the door, and leave for 1 hour to set. Cool and then chill for 4 hours or overnight. Remove from the tin and serve.
Have you tried making this delicious recipe yet?
Let us know by reviewing it below