Quite Easy
Our Chocolate Yule Log is the perfect centrepiece for your Christmas Meal. This fabulous chocolatey swiss roll cake is filled with a rich and creamy centre and a fudgy chocolate frosting made with our Carnation Caramel.
Nutrition and allergy information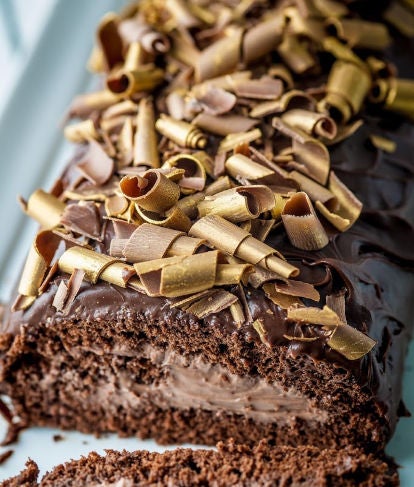 Be the first to review this recipe!
---
Dark chocolate (at least 50% cocoa solids), melted
Edible gold glitter spray
You will also need...
Baking tray 30 x 25 cm lined with parchment
Step 1 of 5
Preheat oven to 180°C (160°C for fan ovens) Gas Mark 4. Beat the egg yolks with the sugar until they are light and fluffy. Sieve the cocoa powder and flour together and fold into the egg yolks.
Step 2 of 5
In a separate bowl beat the egg whites until they are forming stiff peaks. Lightly fold the egg whites through the chocolate-egg mixture and then spread evenly over the baking parchment. Bake for 8-10 minutes until golden and springy to the touch.
Step 3 of 5
Remove from oven and tip onto a clean kitchen cloth. Remove the baking parchment and roll up gently in the towel. Set aside to cool completely.
Step 4 of 5
To make the filling, mix the melted chocolate with the Carnation Caramel and the half fat crème fraiche. When the chocolate sponge is completely cool, unroll, spread the mix over the inside of the sponge and then gently reroll making sure the filling reaches the edges.
Step 5 of 5
Use the remainder of the chocolate filling mixture to spread over the outside of the log and then garnish with chocolate curls. Finally, decorate with the gold spray and serve.
Have you tried making this delicious recipe yet?
Let us know by reviewing it below