Super Easy
These chocolate treats are scarily easy to make and fun to share.
Nutrition and allergy information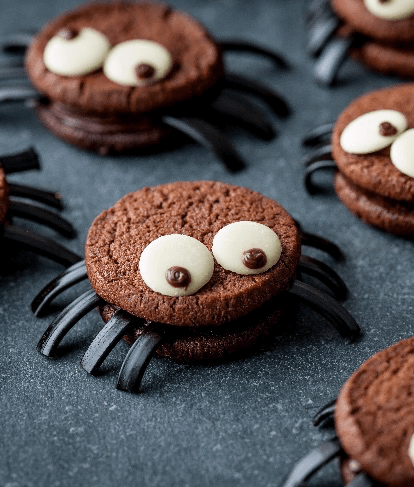 Delicious and indulgent. I made these for Halloween, very easy and the recipe makes loads! They are quite rich, but divine to eat!
---
Buttery baking spread*, softened
*Recipe is based on 70% fat buttery baking spread. 
Baking trays lined with parchment
Step 1 of 4
Preheat the oven to 180°C, (160°C for fan ovens), Gas Mark 4.
Step 2 of 4
In a large bowl, cream the buttery baking spread, sugar and condensed milk until light and fluffy. Mix the flour and cocoa powder together then add to the buttery mixture to form a soft dough.
Step 3 of 4
Tip the dough onto a piece of parchment and roll into a log 3 to 4cm thick. Chill in the freezer for 15 minutes then cut into slices about half a cm thick. Place onto the baking sheets spacing well apart as they'll spread! Bake for 12-15 minutes.
Step 4 of 4
Cut the liquorice strings into 2cm pieces. Melt the chocolate and add to the Carnation Caramel, mix well and allow to cool slightly. Once the cookies have chilled, spread a thin amount of chocolate caramel icing on the base of each one. Pair them together and glue with 8 liquorice legs. Use the remaining chocolate caramel icing to stick the Milkybar buttons for eyes in place and decorate.
Have you tried making this delicious recipe yet?
Let us know by reviewing it below