Gingerbread & Salted Caramel Ice Cream Sandwiches
Quite Easy
Smooth salted caramel ice cream sandwiched between fiery gingerbread sounds like a bit of all right to us. A definite crowd pleaser for those summer months (and no bowls or spoons to wash up after).
Nutrition and allergy information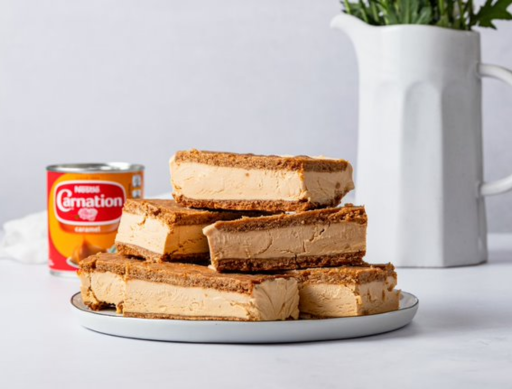 Be the first to leave a review!
---
9" x 11" baking pan, lined with parchment paper or cling film
2 x baking trays, lined with parchment paper
Step 1 of 9
Preheat the oven to 200 °C /fan 180 °C /gas mark 6.
Step 2 of 9
For the gingerbread: add the butter, sugar and golden syrup to a pan and heat gently until the butter has melted and the sugar has dissolved.
Step 3 of 9
Add the flour, bicarb and ginger to a large bowl and gradually mix in the melted ingredients to form a dough.
Step 4 of 9
Divide the dough in half, then roll each piece out in between two sheets of baking paper to around 5mm thick.
Step 5 of 9
Line two baking trays with parchment paper and transfer the dough to the parchment paper. Bake for 10-12 minutes until golden brown, then remove from the oven and allow to cool a little.
Step 6 of 9
While it's still warm, trim the gingerbread into two pieces that will fit inside the baking pan.
Step 7 of 9
For the ice cream: add the cream to a large bowl and whisk to soft peaks with an electric hand whisk. Beat the caramel with the salt in a small bowl and swirl gently into the whipped cream.
Step 8 of 9
Put one piece of gingerbread in the bottom of the lined tin. Spoon the ice cream mix on top and top with the other piece of gingerbread. Cover and place in the freezer for 3 hours or until the ice cream is firm.
Step 9 of 9
When ready to serve, remove from the freezer and cut into squares. Enjoy!
Have you tried making this delicious recipe yet?
Let us know by reviewing it below