Coronation Battenberg Cake
Quite Easy
Nutrition and allergy information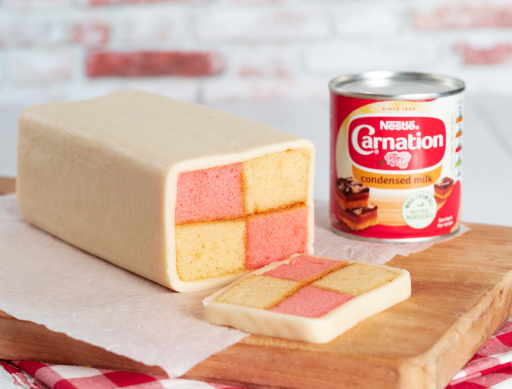 I made this for my nephews birthday . I'm now his favourite auntie !!!
---
Apricot jam (to sandwich it all together)
2 x 900g loaf tins with parchment paper
Step 1 of 6
Preheat oven to 160C/320F gas mark 3
Step 2 of 6
Add the eggs and melted butter to large bowl and whisk to combine. Add in the almond extract and condensed milk and whisk again to smooth. Add in the flour and salt and gently stir in with a spatula. Divide the mixture in two bowls, add the pink food colouring to one and stir in. 
Tip: We've used pink food colouring to colour one of the cakes and left the other side natural. You could use yellow food colouring if you wanted to brighten the colour!
Step 3 of 6
Decant the mixtures in to the loaf tins and bake 30-35 minutes until springy and toothpick comes out clean. Cool in the tins for 5 mins, then remove to cool on wire rack completely.
Step 4 of 6
Once the cakes are cool, use a sharp knife to level the top of each cake and trim the edges to remove any browning. Slice each of the cakes in half to create four equally sized rectangular bricks.
Step 5 of 6
Gently warm the jam, then use it to sandwich the layers together to make the classic Battenberg design. Pop in the fridge to chill whilst preparing the marzipan.
Tip: To create the Battenberg design, spread apricot jam down the length of one of the pink cake bricks and stick gently to the length of one of the plain bricks to create the first layer. Repeat this step with the remaining two bricks of cake to create the second layer. Spread the remaining jam over the top of the first layer of cake bricks and gently place the second layer on top - make sure to alternate the colours so you get the checkerboard effect. 
Step 6 of 6
Knead the marzipan until pliable, then roll it out to about 5mm thickness (if your marizpan is sticking, try sprinkling down a layer of icing sugar onto your work surface first]. Spread a layer of jam on two of the cake sides, then place it on the marzipan, rolling to cover and pressing to stick it together. Repeat with the other two sides, trim the edges and smooth the join with a wet finger. Slice either end to neaten up (perks of the chef!) and enjoy!
Have you tried making this delicious recipe yet?
Let us know by reviewing it below