Biscoff White Chocolate Fudge
Super Easy
You can use any cookies or biscuits for this recipe, so get creative...Use either Carnation Condensed Milk or Caramel for this recipe - they both work a treat!
We've created the perfect mash up for biscoff and fudge lovers with our latest twist on our white chocolate fudge recipe. You could even add some biscoff spread to give it that extra biscoff boost.
Nutrition and allergy information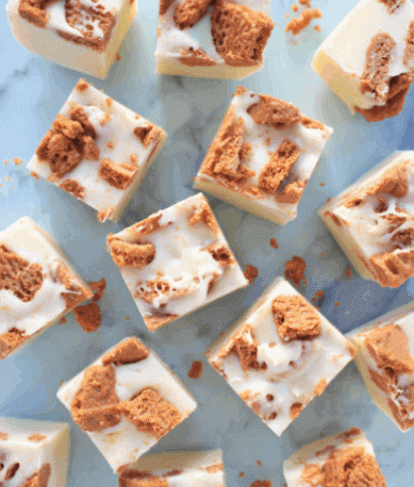 I made this with my 5 year old as a Father's day treat. Super easy and delicious. It won't last long!!
---
Lotus Biscoff Biscuits, finely chopped
20cm (8in) square tin, lined with baking parchment
Step 1 of 3
Break or chop the chocolate into small chunks and place in a non-stick saucepan with the condensed milk.  Melt the ingredients gently over a low-medium heat, stirring occasionally until smooth and silky.  (Alternatively melt in the microwave in 10-20 second bursts, stirring frequently).
Step 2 of 3
Fold most of the biscuits through the mixture and press the fudge into the tin.  Top with any remaining biscuits. 
Step 3 of 3
Chill in the fridge for 1-2 hours until set, cut into squares. Store in an airtight container in the fridge for up to 2 weeks.
Have you tried making this delicious recipe yet?
Let us know by reviewing it below