Halloween Monster Cookies
Super Easy
Spook out your family or friends this Halloween with our monster cookies who will watch you wherever you go in your kitchen! Super simple to make and personalise with colours and natural flavourings too if you like!
Look out for gel food colours which will be brighter and bolder, also ready made fondant icing eyes for a no fuss fun activity with family and friends...
Nutrition and allergy information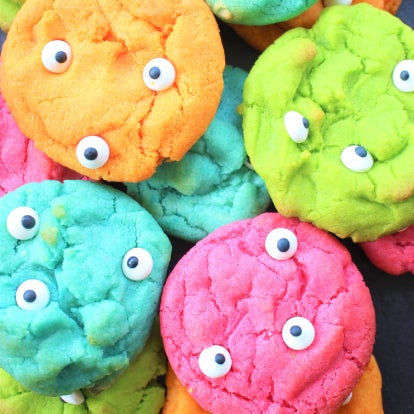 Be the first to review this recipe!
---
Unsalted butter, softened
Vanilla extract (or any other flavouring you like!)
Self raising flour, sifted
Icing 'eyes' (available at larger supermarkets)
Baking sheets, lined with parchment
Step 1 of 5
Preheat the oven to 180°C, (160°C for fan ovens), Gas Mark 4. 
Step 2 of 5
In a large bowl, cream the butter, sugar, condensed milk and vanilla until light and fluffy. Mix in the flour to make a soft dough.
Step 3 of 5
Split the dough evenly into four bowls. Add different food colouring to each bowl and mix in thoroughly until the dough is the colour you'd like.  Chill the dough for 15 minutes.
Step 4 of 5
Roll the dough into walnut size balls and place on a baking tray, flattening them out slightly. Be sure to space well apart as they'll spread! Bake for 12-15 minutes.
The recipe makes a lot of cookies so if you don't need it all in one go, no worries! The dough will keep quite happily in the fridge for a week or so. Or, you can freeze it in balls and then come back and bake whenever you want! 
Step 5 of 5
Once baked, let the cookies cool down for a minute or so, then squidge the eyes into each cookie. The more random, the better! Then they are ready to eat, enjoy!
If the cookies set too quickly to add the eyes like this you can melt a little white chocolate or make some white icing with a little icing sugar mixed with a few drops of water to stick the eyes onto the cookies.
Have you tried making this delicious recipe yet?
Let us know by reviewing it below