No Churn Tiramisu Ice Cream
Super Easy
You asked... we listened.  Thank you for suggesting this idea folks... we love it! Rich and creamy Mascarpone cheese gives the ice cream an authentic Italian flavour and with our condensed milk a sublimely smooth texture. 
You can use light or standard condensed milk in this recipe - both work absolutely fine!  Also you can easily substitute the liqueur for your favourite - we've tried amaretto, dry sherry and coffee flavoured liqueurs.
Nutrition and allergy information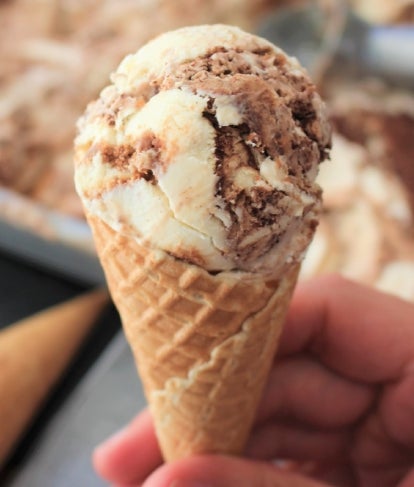 Be the first to review this recipe!
---
Vanilla bean paste (or vanilla extract to taste)
Coffee liqueur or brandy, marsala etc.
Clean freezer proof box or tin 
Step 1 of 3
Beat the mascarpone in a bowl with an electric hand mixer until softened and smooth.  Pour in the whipping cream and slowly beat until you have soft peaks.  Add the condensed milk and vanilla and whip again until thick.  Divide the mixture into 2 bowls.
Step 2 of 3
Put the coffee and cocoa into a bowl and pour over 5tbsp boiling water, mix until smooth then stir in the liqueur.  Dip the sponge fingers in the coffee one by one until they soak up some of the liquid,  then break them into chunks and drop the pieces into one of the bowls of ice cream. When you've finished soaking the biscuits, add the remaining coffee liqueur mixture into the other bowl of ice cream and stir until combined (it will be much runnier but that's fine).
Step 3 of 3
Layer the ice cream mixtures into a freezer proof container (ideally with a lid), sprinkling a little grated chocolate between the layers as you go. Use a knife to swirl the mixtures together a little, creating a marbled effect. Cover with foil or with a lid and freeze for 4 hours, preferably overnight. 
To serve; leave out for 10-15 minutes before scooping into bowls or cones.
Have you tried making this delicious recipe yet?
Let us know by reviewing it below