Super Easy
Sometimes there's such a thing as too much chocolate and we've got a very quick and easy way for you to use some of it up...
Nutrition and allergy information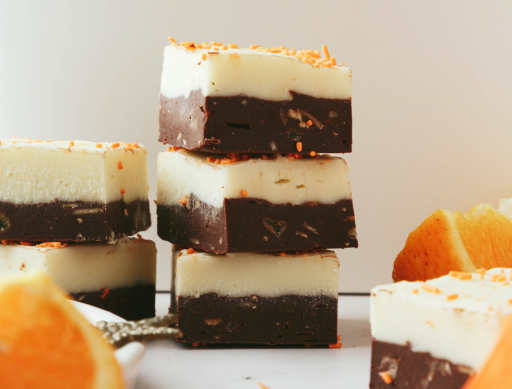 Be the first to leave a review!
---
Orange flavoured chocolate, chopped
Orange sprinkles, optional 
20cm (8in) square tin, lined with baking parchment  
Step 1 of 3
Add the white chocolate and half the condensed milk to a microwave safe bowl. Heat in 10 second bursts, stirring frequently until completely melted.  Repeat this step for the orange chocolate.
Step 2 of 3
Press the dark chocolate fudge into the base of the tin, pushing it out to the edges with a spoon to form an even layer. Leave this layer to set in the freezer for 5-10 minutes then repeat with the white chocolate fudge.
Step 3 of 3
Pop in the fridge to set completely, then cut into squares. Store in an airtight container in the fridge for up to 2 weeks.  
Add a couple of drops of orange food colouring to the white fudge mix for an extra pop of colour. 
Have you tried making this delicious recipe yet?
Let us know by reviewing it below