Quite Easy
Fruit Scones are a true tea-time classic and taste even better when they're made from scratch. Made in just over half an hour, this delicious dessert only uses 4 main ingredients, and a handful of juicy raisins for an extra fruity flavour. Serve these Fruit Scones however you like, whether you prefer yours w of jam and clotted cream or more simple with just a little butter.
Nutrition and allergy information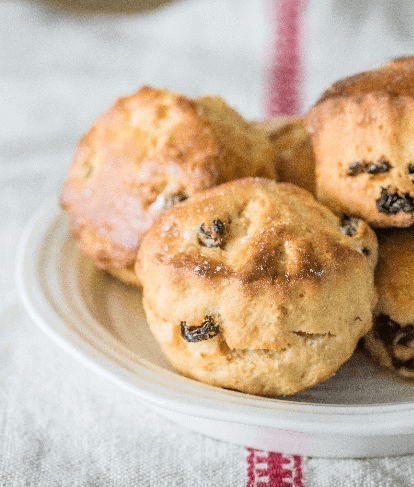 Made these scones today...they are awesome...they are delicious...and so soft...I had never heard of using evaporated milk to...
---
Raisins or other dried fruit
7cm Cookie Cutter
Lined Baking Tray
Step 1 of 3
Preheat oven to 180°C (160°C for fan ovens) Gas mark 4. Rub the cold diced butter into the flour and sugar until it forms bread crumbs. Add the raisins and mix through. Slowly pour in the Carnation Evaporated Milk while stirring together until a soft dough is formed.
Always make sure the oven is adjusted for fan ovens for the perfect bake!
Step 2 of 3
Tip the dough on to a floured surface and roll to an inch thick, then use a cookie cutter to cut out the scones. Re-roll until all the dough is used up.
Step 3 of 3
Place the scones on a lined tray and brush with remaining Carnation Evaporated Milk. Bake for 20 minutes until golden.
Have you tried making this delicious recipe yet?
Let us know by reviewing it below