Valentines Strawberry Cupcakes
Super Easy
These work really well with other fruit and jam combos - try fresh cherries and cherry jam, blueberries, raspberries or lemon curd with passion fruit seeds. Yum!
Spoil your loved one this Valentines Day with these scrumptious and easy to make cupcakes.  Soft sponge hiding a fresh strawberry middle topped with pink buttery icing... 
Nutrition and allergy information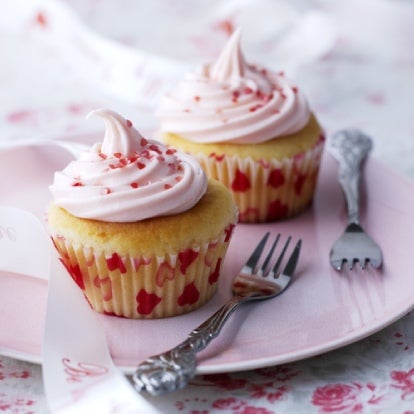 Delicious! Delicious cupcakes, really simple to make and everyone enjoyed them!
---
few drops vanilla extract
few drops pink food colouring
Sugar sprinkles, to decorate
* recipe requires 70% fat buttery spread
12 hole cupcake or muffin tin and cases
Step 1 of 5
Preheat the oven to 180°C, (160°C for fan ovens), Gas Mark 4.
Step 2 of 5
Put the cupcake ingredients in a bowl and beat (use an electric hand mixer if you have one!) until light and creamy.
Step 3 of 5
Put the cupcake cases into the tin and spoon in the mixture. Bake for about 15-18 minutes until springy. Cool slightly then lift out onto a cooling rack.
For perfectly even cupcakes use an ice cream scoop to put the mixture into the cases.
Step 4 of 5
Chop the strawberries into a small dice and mix with the strawberry jam. Once the cakes are cool use a sharp knife or the tip of a piping nozzle to cut a small hole in the centre of the cakes.  Drop a spoonful of the strawberry mixture into the hole and replace the sponge top.
Step 5 of 5
Make the icing: Put the icing sugar, buttery baking spread and vanilla into a large bowl.  Mix the condensed milk and coffee together and add to the ingredients in the bowl.  Whisk with an electric hand mixer, slowly at first, to make a thick icing. Spread or pipe onto the cakes, topping with heart shaped sprinkles or other decoration as you like!
Have you tried making this delicious recipe yet?
Let us know by reviewing it below