You Give Me Butterflies (and Raspberry Cheesecake)
Quite Easy
When we heard Percy and Penny Pig were celebrating their 5th wedding anniversary this year, we simply had to get them a gift. Apparently, the traditional gift for a five year wedding anniversary is wood, but we decided to gift them something so much better...
Don't forget smaller people have smaller appetites!
Nutrition and allergy information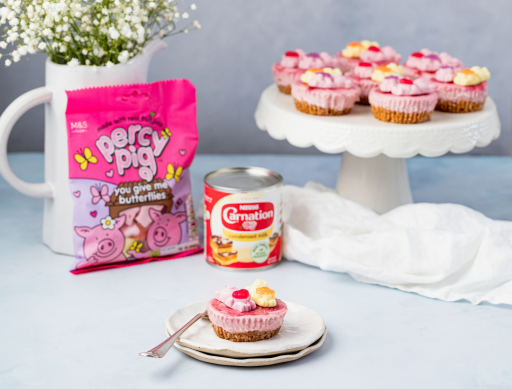 Delicious and easy to make, the whole family loved these :)
---
Frozen raspberries, defrosted
All products are available in-store at M&S or online via Ocado.
12-hole cupcake tin lined with paper cases
Step 1 of 6
Crush the biscuits to a fine crumb and add to a large bowl with the melted butter. Spoon the mix into the paper cases and press down firmly to create the base. Pop in the fridge to chill.
Step 2 of 6
Blend the raspberries to a smooth puree and set aside to use later.
Step 3 of 6
Pour the condensed milk into a large bowl, add the cream cheese and mix together with an electric hand held mixer on the slowest speed, until smooth.
Step 4 of 6
Once the mix is smooth, add the lemon juice and half the raspberry puree and gently fold in with a spatula or wooden spoon until the mixture starts to thicken up.
Step 5 of 6
Spoon the mixture on top of the bases. Top with the remaining raspberry puree and use a skewer to create a swirly pattern.
Step 6 of 6
Pop back into the fridge for 2 hours to chill. When ready to serve, remove the paper liners and for the finishing touch, top each cheesecake bite with a Percy Pig 'You Give Me Butterflies'.
Have you tried making this delicious recipe yet?
Let us know by reviewing it below