Quite Easy
Try these simple cakes out with any mini-chefs in the household and have fun decorating with chocolate beans. They're perfect for birthday parties too!
Nutrition and allergy information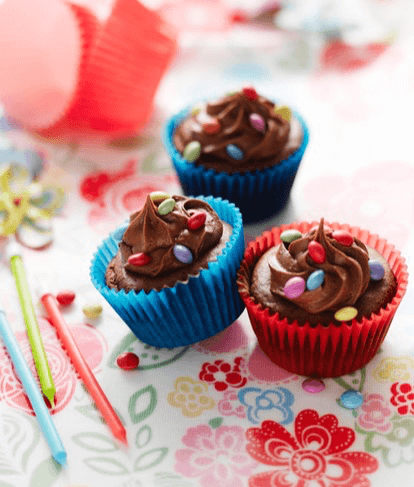 Be the first to review this recipe!
---
Buttery baking spread*, softened
Few drops vanilla extract
Boxes chocolate beans, to finish
*Recipe based on 70% fat buttery baking spread
12 hole cupcake tin and cupcake or muffin cases
Step 1 of 4
Preheat the oven to 180°C, (160°C for fan ovens), Gas Mark 4.
Step 2 of 4
Put the cupcake ingredients in a bowl and beat (use an electric hand mixer if you have one!) until light and creamy.
Step 3 of 4
Put the cupcake cases into the tin and spoon in the mixture. Bake for about 15-18 minutes until springy. Cool slightly then lift out onto a wire rack to cool completely.
Step 4 of 4
When cool, beat the icing sugar, cocoa powder, buttery baking spread and vanilla with enough condensed milk to make a thick icing. Spread or pipe onto the cakes. Finish with a few mini chocolate beans!
Look out for other fun ways to decorate your cakes – try edible glitter, sugar shapes or sprinkles.
Have you tried making this delicious recipe yet?
Let us know by reviewing it below