Super Easy
Nothing says Christmas like a bauble laden tree but better yet, we've made ours edible! We didn't think pine would taste great in a brownie, so we've made them chocolate orange flavoured. Get the whole family involved with decorating their own trees – don't forget the star on top!
Nutrition and allergy information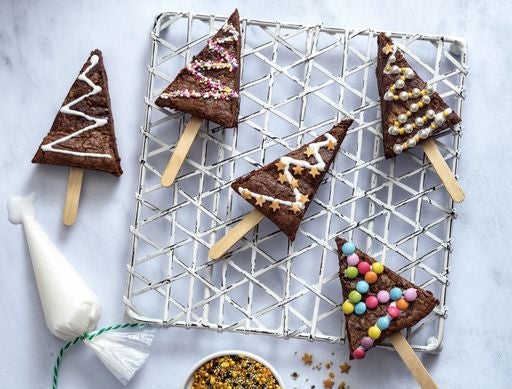 Be the first to review this recipe!
---
Orange flavoured chocolate, chopped
20cm (8in) square tin, lined with baking parchment
Step 1 of 5
Preheat the oven to 180°C (160°C for fan ovens) or Gas Mark 4. Scoop the caramel into a microwavable bowl and tip in 200g of the chopped chocolate. Microwave on full power for 30 seconds, stir and repeat. Pour in the oil and sugar and mix well.
Step 2 of 5
Gently mix in the eggs and then fold in the flour. Stir into a smooth glossy consistency, then tip in the remaining chopped chocolate. Mix well and pour into the lined baking tray.
Step 3 of 5
Place in the centre of the oven and bake for 40-45 minutes until firm to the touch and a thin papery top has formed on the brownies. If you insert a skewer it should come out clean or with a sticky crumb rather than wet brownie mixture.
Step 4 of 5
Once the brownies have cooled completely (you can pop them into the fridge to speed this bit up!), use a sharp knife to cut them into triangles. Push a lolly pop stick into the bottom of each triangle to form the Christmas tree shape.
Step 5 of 5
Using the icing tubes and sprinkles, decorate the brownie Christmas trees with as much sparkle as you want!
Have you tried making this delicious recipe yet?
Let us know by reviewing it below