Quite Easy
Crisp, caramelised outer, with a soft and tender coconutty centre - we love this super easy recipe made with only 3 main ingredients.  Perfect for cooks big and small to have a little fun with without too much mess!  We love them drizzled with dark chocolate but also delicious plain and simple...
Look out for coconut flakes or shredded coconut if you can find it for extra crunch in your macaroons, but desiccated coconut works just beautifully if you can't get it.
Once you've tried out the original recipe - you can step it up with a twist of your own.... Try adding lime, orange or lemon zest to the mixture or make a little dip in the top of each macaroon and fill with Carnation Caramel.  
Nutrition and allergy information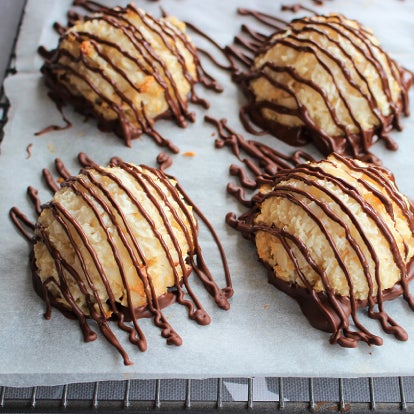 Be the first to review this recipe!
---
Desiccated coconut or coconut flakes (we like a combination of both)
Vanilla or almond extract
Dark chocolate (optional)
2 greased and parchment-lined baking sheets
Step 1 of 4
Preheat the oven to 160°C, (140°C for fan ovens), Gas Mark 3.
Step 2 of 4
Mix together the condensed milk, coconut and vanilla extract in a large bowl. 
Step 3 of 4
For a perfectly round shape, press the mixture into a round ice cream scoop or tablespoon measure, then tap out onto the baking sheet.  If you prefer them free-form drop rounded teaspoonfuls onto the prepared baking sheets.  
Step 4 of 4
Bake for 10-15 minutes or until turning brown at the edges.  Allow to cool for 5 minutes before transferring to a wire rack to cool completely.
Chocolate drizzle: melt 115g dark chocolate in the microwave and place half in a small bowl.  Dip each the base of each bottom into the chocolate then place back onto the tray to set.  Use the remaining melted chocolate to drizzle over the macaroons using a piping bag or teaspoon.
Have you tried making this delicious recipe yet?
Let us know by reviewing it below